Overview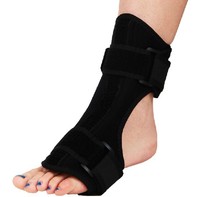 Achilles tendinitis occurs when the band of tissue that connects the calf muscles at the back of the lower leg to the heel bone, the Achilles tendon, becomes inflamed. This condition is a result of overuse from intense exercise, jumping, running, and other activities that strain the tendon and calf muscles.
Causes
Some of the causes of Achilles tendonitis / tendinosis include. Overuse injury - this occurs when the Achilles tendon is stressed until it develops small tears. Runners seem to be the most susceptible. People who play sports that involve jumping, such as basketball, are also at increased risk. Arthritis - Achilles tendonitis can be a part of generalised inflammatory arthritis, such as ankylosing spondylitis or psoriatic arthritis. In these conditions both tendons can be affected. Foot problems - some people with over pronated feet (
Flat
Feet) or feet that turn inward while walking are prone to Achilles tendonitis. The flattened arch pulls on calf muscles and keeps the Achilles tendon under tight strain. This constant mechanical stress on the heel and tendon can cause inflammation, pain and swelling of the tendon. Being overweight can make the problem worse. Footwear - wearing shoes with minimal support while walking or running can increase the risk, as can wearing high heels. Overweight and obesity - being overweight places more strain on many parts of the body, including the Achilles tendon.
Symptoms
Paratenonitis presents in younger people. Symptoms start gradually and spontaneously. Aching and burning pain is noted especially with morning activity. It may improve slightly with initial activity, but becomes worse with further activity. It is aggravated by exercise. Over time less exercise is required to cause the pain. The Achilles tendon is often enlarged, warm and tender approximately 1 to 4 inches above its heel insertion. Sometimes friction is noted with gentle palpation of the tendon during ankle motion. Tendinosis presents similarly but typically in middle-aged people. If severe pain and limited walking ability are present, it may indicate a partial tear of the tendon.
Diagnosis
A doctor or professional therapist will confirm a diagnosis, identify and correct possible causes, apply treatment and prescribe eccentric rehabilitation exercises. An
MRI
or Ultrasound scan can determine the extent of the injury and indicate a precise diagnosis. Gait analysis along with a physical assessment will identify any possible biomechanical factors such as over pronation which may have contributed to the achilles tendonitis and training methods will be considered. Biomechanical problems can be corrected with the use of orthotic inserts and selection of correct footwear.
Nonsurgical Treatment
See your doctor or sports physiotherapist for further advice. You may be prescribed anti-inflammatory medicine and a rehabilitation programme. Sometimes, the ankle may be put into a walking boot or cast to immobilise the ankle in the short term. Gentle calf stretching is the first stage of rehabilitation. Don?t stretch to the point of pain. Strengthening the Achilles tendon is the second stage. Your doctor or sports physiotherapist will be able to advise you on exercises for this. Special exercises called eccentric calf raises, that contract the calf muscle as it is lengthening (during the lowering part of the movement), are the standard exercise used in the rehabilitation of Achilles tendon injuries. Sometimes a heel raise or orthotics may be useful. As symptoms resolve, resume normal weight-bearing activities gradually. Avoid running until all tenderness has gone. Swimming or cycling in low gear are good replacement activities.
Surgical Treatment
Mini-Open Achilles Tendon Repair. During a mini-open Achilles tendon repair surgery, 2 to 8 small stab incisions are made to pull the edges of the tendon tear together and suture the torn edges to repair the damage. During this procedure the surgeon will make one 3 to 4 cm long incision on the back of your ankle and 2 to 4 smaller vertical incisions around the long incision. These smaller veritical incisions are made with a pair of surgical scissors and are commonly referred to as "stab incisions". Once the incisions are opened up, the surgeon will place precise sutures with non-absorbable stitches to strengthen the damaged Achilles tendon tissue. This suturing technique reduces the amount of scar tissue on the tendon after surgery and provides better
surface
healing of the skin. Unlike the traditional method of an open surgery, this procedure has less risks and complications involved. To learn about all risks you may face be sure to speak to your doctor.
Prevention
You can take measures to reduce your risk of developing Achilles Tendinitis. This includes, Increasing your activity level gradually, choosing your shoes carefully, daily stretching and doing exercises to strengthen your calf muscles. As well, applying a small amount ZAX?s Original Heelspur Cream onto your Achilles tendon before and after exercise.